###HEADER:AD###
|
###TEMPLATE:PREMIUM_LOGO###

On Thursday, expect partially cloudy skies with a high/low of 65/53 Fahrenheit. On Friday, expect more clouds, with a high/low of 66/53 Fahrenheit.
1. Polk Street's nightlife icon the Hemlock Tavern is closing this fall. Via Facebook, the Hemlock announced that it would shutter on October 6, and will be demolished to make way for a 54-unit mixed-use condominium building. Managing partner Don Alan, who also owns the Casanova on Valencia Street in the Mission, said that the Hemlock has a lease that runs until 2022, but when the building's other tenants took buyouts, the Hemlock decided to sell the business and the liquor license as well. More than 15,000 bands have played during its 18 years in business, a time that also saw other live music venues like the Red Devil and Kimos shut their doors. - ABC 7
2. The contractor in Muni's recent tunnel death has a record of safety violations. Though Shimmick Construction said "no" when asked by the SFMTA if the company had "been cited for any serious and willful violations by Cal/OSHA," an investigation reveals that the contractors have been linked to nearly 50 workplace safety violations over the last decade, including citations for serious violations related to the death of a forklift worker in 2016. An investigation has yet to prove if safety violations were behind Friday's death of 51-year-old Patrick Ricketts, who was crushed by a steel beam while working in the SFMTA's Twin Peaks tunnel. When contacted, Shimmick refused to comment on past violations, but said that "the safety of our employees and the public is core to everything we do." - NBC BAY AREA
3. A driver is in custody after fatally striking a San Francisco cyclist. An SFPD spokesperson says that the crash occurred at the intersection of Turk and Taylor at around 5:44 p.m. Tuesday, and that "the bicyclist was transported to the hospital where he later succumbed to the injuries." Though further details of the collision were not available at publication time, police confirm that the driver was taken into custody. As of Wednesday morning, the crash victim had not been publicly identified. - SF WEEKLY
4. A six-person "Poop Patrol" will be scouring SF's streets for bodily waste. It's unclear if that's its official name, but it's the one being used in every news report on the matter, so let's go with it. According to the Department of Public Works, the team is made up of five workers and one supervisor, which via two trucks will be deployed to "known hot spots" to clean up when complaints are made of "feces whether dog or human." (Fun fact: according to the head of the DPW, a single pile of human waste takes at least 30 minutes for one of his staffers to clean.) The program, which will cost taxpayers $750,000, will soft launch this week and kick off officially in September. - ABC 7
5. Want an empty Mission church? The 4,750-square-foot 22nd Street parcel can be yours for a cool $2.999 million. Last time it was on the market was 1995, when it sold for $180,000. - SOCKETSITE
6. After a year of bumps, Masonic Avenue's revamp is over. The corridor's ribbon was cut Tuesday, so ride or drive on, Jeeves. - HOODLINE
7. Unsurprisingly, the rent fight between Santa Clara and the 49ers comes down to cash. A 60-page arbitration award reveals that the dispute is centered around whether revenue, and what kind of revenue, should be a factor in determining how much the 49ers should have to pay Santa Clara to use Levi's Stadium. - SAN JOSE MERCURY NEWS
8. A drive-by shooting at 16th and Shotwell Streets left one man injured Tuesday. The incident, which went down at about 7:25 p.m., involved six to eight gunshots at the crowded intersection. - MISSION LOCAL
9. A SF couple has quit their corporate jobs to travel the world. Of course, it helps that they owned a house in SF that they sold to fund their journey, which they are taking because "we weren't happy with our day-to-day routine." - ABC 7
10. Today's SF In Pictures: Instagram user monica.actor.sagar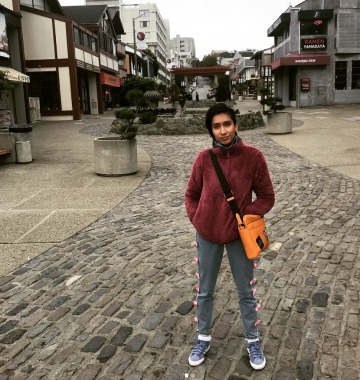 BAY AREA FOOD NEWS
1609 Powell Street has a new restaurant: Barrio, a Central and Latin American joint from industry vets who cut their teeth at places like Mina Test Kitchen and El Techo. Expect tacos made with fresh blue corn tortillas, cochinita pibil, fried yucca, and quekas, Eater SF reports. Barrio's soft open is behind us, and it's now open from 3 p.m.- 12 a.m. Monday-Wednesday and Sunday-Thursday from 12 p.m.-12 a.m.
Nut-averse ice cream fans beware! Salt & Straw, which attracts long lines at its two SF locations, is recalling batches of brownie ice cream from all of its shops as they might contain "undeclared peanuts." According to SF Gate, a staffer spotted the illicit nut in their "Chocolate Gooey Brownie" ice cream, and subsequent investigation indicated that its chocolate chips could have had "possible cross-contact with a peanut allergen."
Bay Area brewery/restaurant chain Seven Stills is in a bit of hot water with In-N-Out, after the local company released a product called In-N-Stout that owed a heavy debt to the burger joint's branding. KPIX reports that a cease and desist sent by In-N-Out was not without humor, saying in part that "we felt obligated to hop to action in order to prevent further issues from brewing."
WHAT TO DO THIS WEEK
Breathe out: Have you been to Salesforce Park yet? Atop the fancy new Transbay Terminal, it's a sight to behold. Kill two birds with one stone every Thursday night through October 25 from 5:30-6:30 p.m., with a free yoga class atop the structure. Only a limited number of mats will be available to borrow, so be a pal and bring your own.
Rockin' high: If yoga's not your thing, what about a free concert? Also atop the terminal, the Live@5: After Work Music series is held every Wednesday at 5 p.m. Expect "After work jams from seasoned Bay Area musicians curated by People in Plazas," organizers say.
Biking good deals: The Sports Basement at 1590 Bryant Street is holding their first-ever Cycle Fest Saturday from 9 a.m. to 12 p.m. They'll have bikes, bike parts, gear, equipment and everything else bike-related; available to buy, sell or trade. Proceeds from booth spaces will benefit The San Francisco Bike Kitchen.
Eve Batey, who pens this newsletter for you five days a week, is a writer, editor, and consultant based in San Francisco. You can find her on Instagram at @evelb.

Editing team: Lon Harris (editor-in-chief at Inside.com, game-master at Screen Junkies), Krystle Vermes (Breaking news editor at Inside, B2B marketing news reporter, host of the "All Day Paranormal" podcast), and Susmita Baral (editor at Inside, recent bylines in NatGeo, Teen Vogue, and Quartz. Runs the biggest mac and cheese account on Instagram).

###FOOTER:ADS###