|
1. People who work in highly paid white-collar occupations may be most exposed to AI in the future, according to a new study released Wednesday by the Brookings Institution. The research is based on Stanford Ph.D. student Michael Webb's method that examines AI patents and compares them with a Department of Labor database that describes occupational duties. The results predicted that workers in high-tech digital services, such as software publishing and computer system design, actually face high exposure to AI, which means that the technology will alter how they work (which may or may not mean that their jobs will be replaced). According to the study, more educated people and groups such as white and Asian men are most likely to face this "high exposure" to AI, as well as high tech areas like California or Seattle. - BAY AREA NEWS GROUP
2. In related news, Brookings published a series of articles about important issues facing the AI industry. Dubbed "AI Governance," the series is penned by scholars from in and outside the institution and addresses problems and solutions within the AI field. Topics include "Fighting deepfakes when detection fails," "Products liability law as a way to address AI harms," and "10 actions that will protect people from facial recognition software." The series was led by Governance Studies Vice President Darrell West. - BROOKINGS
3. Former Yahoo CEO Marissa Mayer has launched a firm that will focus on AI technology like self-driving cars and facial recognition, she said. Mayer resigned from Yahoo shortly after it was sold to Verizon Communications in 2017. During the Techonomy conference this week, she explained how she's turned her focus on Lumi Labs, a secretive company she co-founded with former Yahoo SVP Enrique Munoz Torres. Lumi, which means "snow" in Finnish, is focused on building AI applications for consumers, Mayer said, including one product that uses AI to address the many digital contacts that clog up people's phones. "The overriding focus is on the grand challenges of AI such as self-driving cars and global facial recognition," Mayer said. "But there are smaller applications that can be just as useful to benefit people every day." - MARKET WATCH
4. Sony Corporation announced a new venture on Wednesday called Sony AI, which will oversee R&D in AI for the tech giant. Sony AI will initially pursue flagship projects in imaging and sensing, gaming, and gastronomy when it opens offices in Japan, the U.S., and Europe, although it didn't specify when. In its announcement, Sony said that any adoption of AI technology developed through the projects is "critical to further enhancing the value of Sony's gaming and sensor businesses in coming years." Last year, the Sony Corporation of America forged an agreement with Carnegie Mellon University to conduct R&D involving AI and robots in "food preparation, cooking, and delivery." - CNBC
5. The U.K's plans to leave the European Union are sparking fears that the hard border will starve British enterprises of the tech skills they need to expand artificial intelligence, cloud computing and machine learning businesses. A LinkedIn Workforce survey from 2018 found that 20 percent of tech graduates with the skills needed to grow the tech industry come from countries outside of the U.K. but within the EU trade bloc. Simultaneously, 51 percent of recruiters in the U.K. have seen an increase in demand from businesses to hire candidates with AI skills, a 49 percent increase in demand for cryptocurrency, and a 46 percent spike in demand for blockchain skills. - FINANCE MAGNATES
A version of this story first appeared in Inside Cloud.
6. An ad copywriter developed a faux Nike campaign using a neural network trained on years of company commercials. Jean-Baptiste Le Divelec told TNW that "AI and neural networks are definitely part of a big discussion in the industry." According to Le Divelec's website, he and some friends fed the neural network with seven years' worth of Nike commercials "to see if it could write something original and inspiring." The result is a word-based ad (sorry, no video) named "AI and Kennedy," which you can watch here. - TNW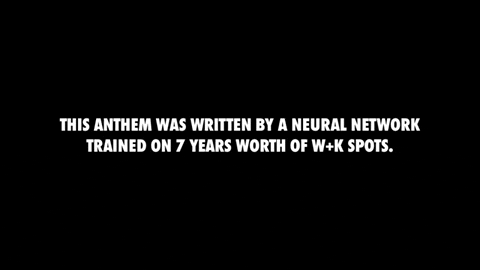 7. Machine learning can assess particles involved in quantum research with unprecedented accuracy and speed, according to a Chinese research team. The researchers trained a computer to perform the calculations that are required to make quantum computing a reality. Part of this involves assessing the nature of ties between particles in quantum entanglement, which is the basis of quantum information processing. "It works like the separation of minerals," said Professor Li Chuanfeng, a lead scientist of the study with the University of Science and Technology of China. "The AI tells us whether an ore contains gold, iron or copper, so we can make use of them for different purposes." - SCMP
8. Heliogen, a solar-energy company, is using AI to concentrate sunlight at solar power plants. The California-based company's technology uses "advanced computer vision software" to more accurately align a large array of mirrors, which reflect sunlight on a target, creating a heat source that exceeds temperatures of 1,000 degrees Celsius (or 1,832 degrees Fahrenheit). The more precise the mirrors are aligned (based on things like the sun's position in the sky) the higher the temperatures will be - potentially allowing them to split hydrogen molecules from water, creating gas for power without the use of fossil fuels. Early investors include Bill Gates, the venture capital firm Neotribe, and billionaire Patrick Soon-Shiong's Nant Capital. - GIZMODO
9. AI will not save journalism nor kill it off, according to a new report from Polis, a media think-tank at the London School of Economics and Political Science. In its global survey, "New Powers, New Responsibilities," Polis researchers polled 71 news organizations from 32 countries about their use of AI, now and in the future. The results found that newsrooms currently use AI mostly in the areas of news gathering, production, and distribution. As the technology is incorporated more in the field, journalists should embrace algorithms to use their human skills "in new and more effective ways," Polis founding director Charlie Beckett wrote in the report, noting that newsrooms should adapt to AI and accept changes resulting from the technology. - NIEMAN LAB
10. Scientific American's Eric Siegel argues that the media's coverage of AI greatly exaggerates the power of machine learning. In an opinion piece published on Wednesday, Siegel cites several news headlines that appear to promise "godlike predictive power" from machine learning, such as The Next Web's "This Scary AI Has Learned How to Pick Out Criminals by Their Faces" or The Spectator's "Linguistic Analysis Can Accurately Predict Psychosis." According to Siegel, machine learning still can't predict these types of qualities with certainty, and the media often misinterprets what "accuracy" means in AI-related research. - SA
Written and curated by Beth Duckett in Orange County. Beth is a former reporter for The Arizona Republic who has written for USA Today, Get Out magazine and other publications. Follow her tweets about breaking news and other topics in southern California here.
Editor: Kim Lyons (Pittsburgh-based journalist and managing editor at Inside).