|
1. During Wednesday's Democratic debate, presidential candidates Pete Buttigieg and Andrew Yang expressed fears that the U.S. could lag behind China and other countries in AI development. If the U.S. falls behind on AI, "the most expensive ships that the United States is building just turned into bigger targets," Buttigieg said. Yang listed AI as one of the five essential threats facing the U.S. this century, with the others being military drones, non-state actors, loose nuclear materials, and climate change. The U.S. is "in the process of potentially losing the AI arms race to China right now because they have more access to more data than we do," Yang said, adding that Beijing is pouring billions of dollars into subsidizing AI development "in a way that we are not." Last week, Yang proposed a new world data organization - which he called a "WTO for data" - that would treat personal data as a property right, "because right now, unfortunately, we're living in a world where data is the new oil and we don't have our arms around it." - VENTURE BEAT
2. AI can't categorize people correctly if they don't appear stereotypically male or female, writes CNN Business' Rachel Metz. Tech companies are feeding AI systems with images and other data tagged as either "male" or "female," she writes, which could be used to predict the gender of people such as shoppers at Amazon stores. But the software doesn't typically work on people who identify as transgender or nonbinary, for example. Some AI and gender experts are concerned that the AI classifications could end up harming people. Meredith Whittaker, a former Google employee and co-founder of New York University's AI Now Institute, argues that we should better analyze "these kinds of assumptions - that someone's body or face or style or hair can kind of detect their interior state or identity." - CNN BUSINESS
3. #ThrowbackThursday: Kismet
Kismet - the anthropomorphic robot developed by Massachusetts Institute of Technology's Dr. Cynthia Breazeal in the late 1990s - was one of the first AI bots to engage in social and emotional interactions with people, thanks to its human-like face (which has eyes, lips, eyelids, and eyebrows) and proto-language (which apparently resembles a baby's babbling).
Its name derives from a Turkish word meaning "fate" or "luck." Breazeal took on the challenge as an experiment in affective computing, with a synthetic nervous system designed after human models of intelligent behavior.
While there's not much available about Kismet's current status, it's original MIT website is still up and running, with videos and descriptions of its design and hardware. - NEW SCIENTIST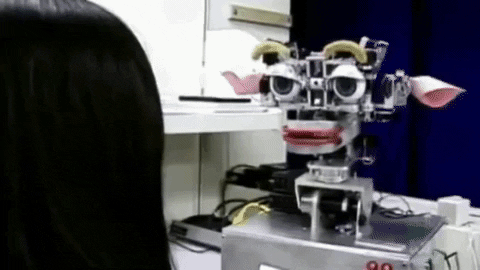 4. After losing to one of the world's top debate champions earlier this year, IBM's Project Debater is taking part in a new debate today at the Cambridge Union. It's the first Cambridge University debate to feature an AI, according to society president Rachel Tustin. The machine will debate on the merits of the technology and will deliver each human team's opening speech, based on submissions crowd-sourced from more than 1,000 people. In a February debate, Project Debater failed to deliver convincing enough rebuttals on the topic of whether preschool should be subsidized. - CNN
5. Twitter has acquired Aiden.AI, a London-based startup that developed an AI-powered marketing platform for advertisers. Since its 2016 inception, Aiden has raised $2.4 million in two seed rounds. Its machine learning software offers recommendations to advertisers and content creators on social media and will "help power Twitter self-serve advertising business to unlock performance for small businesses," according to the firm. As part of the acquisition, 11 employees from Aiden will relocate to Twitter's office in Soho, London. Twitter said it hopes to integrate Aiden's technology on its platform in the coming months. - CAMPAIGN
6. Some experts are asking for a more formalized, documented machine learning process to curtail the loss of model information when a data scientist leaves a company. Oftentimes, a data scientist may forget to pass along information about how a machine learning model was developed. When that employee leaves, the information can be lost permanently. As IEEE Spectrum notes, problems can arise if the model was found to be biased, since the company may not know what data was used to train the model. Companies like Microsoft already have an idea of how to document the machine-learning process and encourage co-development of ML models as much as possible. - IEEE SPECTRUM
7. Las Vegas has installed cameras and sensors at 30 traffic intersections, sending the data to AI software to analyze trends in driving. Spending on so-called "intelligent" traffic management is projected to rise to $9.8 billion worldwide by 2023, up from $4.3 billion currently, according to the research firm International Data Corp. In Las Vegas, the city contracted with a group of Nippon Telegraph & Telephone Corp. subsidiaries to provide the AI software in its systems. Street and traffic-light pole sensors and cameras capture data and feed it to edge servers at City Hall, where the AI analyzes it to develop "contextual information" about the flow and direction of traffic and the number of vehicles, among other things. The city expects to install the systems at an additional 50 intersections within the next three months. - WSJ
8. Google's Smart Compose, which is already in Gmail, is now in beta for Google Docs. At the Cloud Next event in London today, Google Cloud CEO Thomas Kurian said the AI-powered feature will come to G Suite's Google Docs soon. Right now, only G Suite administrators can sign up to try it (and it's only in English). Smart Compose uses Google's machine learning models to make suggestions to autocomplete words based on the user's past writing, although some have pointed out the inherent hazards of using the feature without going over it. - THE VERGE
9. Google Duplex is now handling movie ticket purchases, the company announced Thursday. To understand natural language, Duplex uses a recurrent neural network linked to the output of Google's automatic speech recognition technology, in addition to data like the parameter and history of conversations. Android users can use Google Assistant to order movie tickets through Duplex, which was initially rolled out to select Pixel users for testing a year ago and is now on Pixel 2, Pixel 3, and other Android phones. - PYMNTS
10. Microsoft Azure is collaborating with the oil and gas giant Baker Hughes, and the artificial intelligence firm, C3.ai, to develop cost-saving artificial intelligence solutions. The partners envision AI software that will help Baker Hughes manage inventory, and maintain and repair equipment at its oil and gas fields. - ZACKS
Written and curated by Beth Duckett in Orange County. Beth is a former reporter for The Arizona Republic who has written for USA Today, Get Out magazine and other publications. Follow her tweets about breaking news and other topics in southern California here.
Editor: Kim Lyons (Pittsburgh-based journalist and managing editor at Inside).