|
1. Two U.S. senators have sponsored a bill that would force police to obtain a warrant if they want to track a person using facial recognition for longer than three days. The proposed Facial Recognition Technology Warrant Act would be the first federal law limiting the way police and other law enforcement can use facial recognition. If implemented, an officer would be barred from using networks of closed-circuit cameras, for example, to track an individual for more than three days. Sponsors Sen. Chris Coons (D-Delaware) and Mike Lee (R-Utah) have cited China's rampant use of the technology as a reason to restrict it more in the U.S., without banning it outright. - NEXT GOV
2. CIMON 2 has officially arrived at the International Space Station, providing some assistance and companionship for crew members. The AI-powered robot is an upgrade of the original CIMON, which marked the world's first AI system on the space station when it arrived in 2018. However, the original CIMON had some issues, including suddenly interrogating astronaut and geophysicist Alexander Gerst by accusing him of being "mean" and not liking him. The original bot also stopped taking orders, but CIMON-2 (which uses IBM's Watson for its AI) has some notable upgrades, including "more sensitive microphones, more robust computers, and IBM Watson Tone Analyzer technology, which uses linguistic analysis to detect emotion from the tone of a conversation," according to IBM. These emotion-sensors are expected to help the bot connect better with the astronauts. - BGR
3. By the numbers: A survey of more than 6,100 people in China reveals concerns about facial recognition and privacy in the country, which has the most facial recognition cameras of any nation worldwide. Here are some of the more interesting findings from the survey, which was published last week by The Nandu Personal Information Protection Research Center:
83 percent of respondents said that they would like to have more control over their data, including the option to delete it.
Almost 80 percent said that they fear facial data leaks.
Nearly 75 percent said they wanted the option to use traditional ID methods over facial recognition to verify their identities.
65 percent said they were worried about deepfakes. - BBC
4. During this week's conference on Neural Information Processing Systems (NIPS), researchers plan to present details of an AI system that can predict 3D properties of 2D images. The AI, which doesn't use any 3D training data, is detailed in a paper "Learning to Predict 3D Objects with an Interpolation-based Differentiable Renderer." The differentiable rendering framework (DIB-R) was developed by researchers at Nvidia Research, Vector Institute, University of Toronto, and Aalto University. It could one day take on more complex tasks, such as automatically rendering 3D models for multiple objects. "You can go inside it potentially, view it from different angles — you can take old photographs in your photo collection and turn them into a 3D scene and inspect them like you were there, basically," NvidiaAi director and co-author Sanja Fidler told Venture Beat. - VENTURE BEAT
5. China's goal of successfully dominating the world's AI market likely depends on how many U.S.-educated Chinese workers choose to return home, according to The South China Morning Post. The U.S. surpasses China in the number of top 10 universities in the AI field (five versus three), meaning many Chinese AI scientists consider it a good training ground to further their studies. Once they graduate, more Chinese nationals appear to be returning to China due to tighter scrutiny under the U.S.-China trade war and Beijing's designation of AI as a national priority. However, the majority of U.S.-educated AI scientists stay in the country by taking advantage of a rule that allows them to remain in the U.S. for three years to gain work experience. This is partly because of the longer working hours in China (the "996" culture of 9 a.m. to 9 p.m., six days a week). - SCMP
6. Experts recently sounded the alarm over potential mass job losses in the finance and insurance industry as a result of AI. During a hearing on Friday of the House Financial Services Committee's AI task force, various experts in the field told the panel that people who aren't trained to work alongside AI algorithms in finance and banking are most at risk of job loss. Marcos Lopez de Prado, a professor at Cornell University's engineering school, said there is a pressing need to retrain workers. However, there is some positivity to algorithms replacing humans in simple tasks, such as allowing humans to take on specialized roles within data science and tech, he said. This could help narrow the gap when it comes to racial and gender representation in finance. "The key is to ensure equal access to technical education," he said. - WSJ
7. AI and cloud computing are playing increasingly central roles in the efficient repair of roads, railway bridges, and other infrastructure, Inside Cloud writer Jon Jeter reports. Tasks that once required a team of inspectors and possibly lengthy road closures can now be done with a surveillance drone, which captures thousands of images to create a 3D mesh replica of a structure, according to engineers for the Austrian-based firm, StrucInspect. Storing and editing the high-resolution images to remove a snowdrift, for example, is data intensive, but requires far fewer staff hours than does the traditional model for public infrastructure repairs. - ZDNet
8. A designer trained a convolutional neural network to sort Lego bricks, including blocks that it's never seen before. Daniel West said his Universal Lego Sorter can recognize roughly 3,000 different Lego parts and sort them by separating each block and directing the parts to different bins. It's capable of identifying and sorting a brick about every two seconds. West has said he is open to releasing the AI software in the future. - EXTREME TECH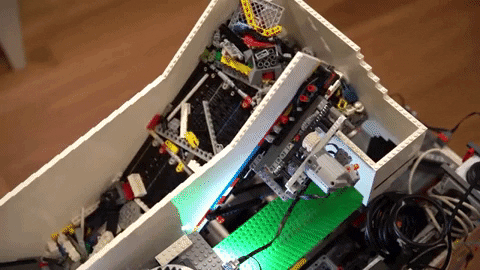 9. Experts say AI is expected to curb the number of people who are misdiagnosed during the early treatment process. About 20 percent of all medical errors typically occur during a patient's initial exam, usually because of insufficient time spent with the doctors, according to a study cited by social media specialist Deniz Unay. Though it's still limited by a lack of medical data right now, AI can analyze and estimate data faster and oftentimes more accurately, which could improve diagnoses and better tailor treatments for each patient, Unay says. - HURRIYET DAILY NEWS
10. Baidu has applied for more AI patents than any other company in China, according to a research unit of China's Ministry of Industry and Information Technology (MIIT). As of October, the search giant had filed 5,712 AI-related patent apps, followed by Tencent with 4,115 and Microsoft with 3,978. It's the second consecutive year that Baidu has ranked first. - CX TECH
Written and curated by Beth Duckett, a former reporter for The Arizona Republic who wrote a book about the solar industry and frequently covers hobby and commercial drones. You can follow her tweets about artificial intelligence news here.
Edited by Sheena Vasani, Inside Dev editor.