|
Former London mayor Boris Johnson, a key figure in the movement to Leave the European Union, dropped out of the contest to become Britain's next prime minister. Johnson announced his decision just minutes after Michael Gove, who also supported the Leave campaign and had been expected to serve as Johnson's campaign manager, announced his entry into the race. (Gove told reporters he had come to the conclusion "that Boris cannot provide the leadership" needed to oversee the transition.) Conservatives could also opt for Theresa May, the domestic security chief who stuck with Cameron and voted to Remain. – WAPO
Police report finding a foot and other body parts on the shore in Copacabana, Rio, near the Olympic beach volleyball venue. The parts are thought to have washed on to the beach from the sea, and appear to come from a woman or young adult. It's suspected that the incident could stem from the violence that has spread throughout Rio over the past week, as police attempt to capture escaped drug trafficker Nicolas Labre Pereira. There has been concern that a budget crisis could compromise plans for security around the upcoming Olympic Games. – ESPN
Andrews Air Base near Washington, DC, was placed on lockdown this morning due to a mix-up surrounding a planned training exercise. The facility, which is home to Air Force One, had scheduled an "active shooter drill" for this morning, but at some point, the false reports associated with the exercise were reported publicly, and emergency personnel responded. After about an hour, it became apparent that the drill may have been misunderstood, and there was no genuine armed threat. – USAT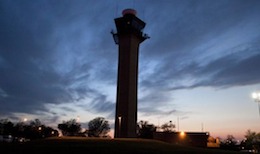 Australian prime minister Malcolm Turnbull, of the right-wing Liberal Party, faces a tough re-election fight this weekend from the leader of the opposition Labor Party, Bill Shorten. Turnbull dissolved Parliament and called for a new election in the hopes of winning a stronger mandate, but has seen his support fall to 48%, down from 69% when he first took office 10 months ago. The leaders of both parties remain historically unpopular, with smaller alternatives, such as the liberal Green Party or the far-right, anti-immigration One Nation Party, picking up additional support. Turnbull is Australia's sixth prime minister in the last nine years. – NYT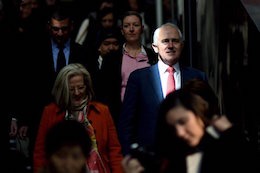 Sen. Charles Grassley has called on the FBI to begin informing Americans who have been targeted on ISIS "hit lists." Many lists of unknown origin have appeared online containing the names, and sometimes personal information, of Canadians and Americans identified as potential targets, though in many cases, it appears they have been selected at random. Law enforcement has apparently contacted some but not all of these individuals, and Grassley seeks to identify and even regulate the procedures by which possible targets are informed of the threats. – FOX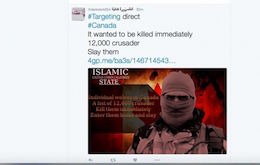 The second-largest gem-quality rough diamond ever discovered failed to find a buyer in a Sotheby's auction on Tuesday. The tennis ball-sized Lesedi la Rona, measuring 1,109 carats, had been described as the "find of a lifetime" by the chairman of Sotheby's jewelry division, and the company had hoped it would fetch at least $70 million. But the largest bid offered for the stone, unearthed in Botswana in November, was $61 million. – USNEWS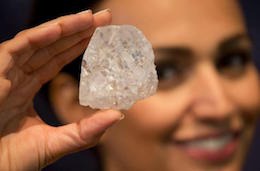 Pepsi is bringing back short-lived '90s clear soda experiment, Crystal Pepsi, for eight weeks only later this summer. The new Crystal Pepsi campaign will revolve largely around nostalgia, and will also feature an online video game based on the '70s educational classic "The Oregon Trail." (The new "Crystal Pepsi Trail" is filled with references to online pop culture from the original Crystal Pepsi era, with references to Furby, Tamagotchi, pagers and kids' game show "Double Dare.") Crystal Pepsi briefly returned last year, but was exclusively available via an online sweepstakes. – ADAGE
Have you ever tried Crystal Pepsi? What did you think? Plan on picking some up when it's available later on this summer? Hit REPLY to this email and let us know... RIGHT NOW!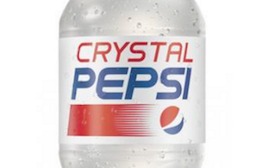 The West Hollywood sheriff's department charged YouTube star Calum McSwiggan with filing a false police report for claiming he was beaten up outside a gay bar. In an Instagram post from his hospital bed, McSwiggan claims he suffered "three broken teeth and six stitches in my forehead" after being assaulted "by three guys." His story was corroborated on Twitter by a friend, Riyadh Khalaf, who did not personally witness the attack. Law enforcement, however, has been unable to substantiate much of McSwiggan's story, and noted that he was observed by deputies vandalizing a car, and had no visible injuries. In a follow-up post, McSwiggan admitted to vandalism (he claims the car belonged to one of his attackers) and injuring himself in his jail cell with the receiver of a pay phone. – TIME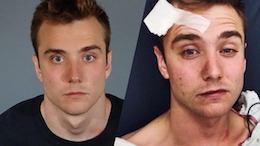 Director Clint Eastwood's new film, "Sully," stars Tom Hanks as real-life pilot Captain Chesley "Sully" Sullenberger. A first trailer for the film, which opens nationwide on September 9, went online yesterday. Sullenberger famously executed an emergency landing of US Airways Flight 1549 safely on the Hudson River in 2009, becoming a national hero. The film is based on Sully's autobiography, "Highest Duty," written with Jeffrey Zaslow, and also stars Aaron Eckhart and Laura Linney. – VAR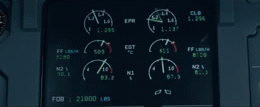 Apple received approval for a patent on technology capable of disabling a phone's video and camera capabilities remotely. According to the patent application, a sensor placed in a particular location – like, for example, a venue's stage – would emit infrared signals containing encoded data that, when identified by a device like a smartphone or tablet, would disable the camera's function. The technology could theoretically be used to prevent an audience from recording a live concert or performance, or even to prevent a criminal from "casing" a bank or safe. There's also discussion about how the sensors could be used to deliver information to a device – for example, providing a viewer with more information about a piece of artwork. – COS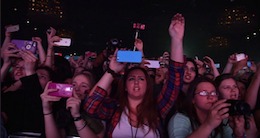 New research indicates that butter, if enjoyed in moderation, is not particularly unhealthy. The new study, performed at Tufts University, looked at the actual foods consumed by subjects, rather than specifically at the ingredients making up those foods. They concluded that, while it's better to replace butter in your diet with "more healthful plant-based oils," the dairy product itself will likely not impact overall health positively or negatively, and is not a major contributor to type-2 diabetes, cardiovascular disease or mortality. In many cases, the researchers imply that foods frequently consumed with butter – such as bagels – are more of a concern than the butter itself. – NBC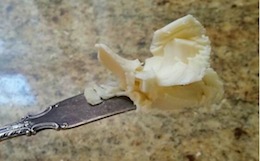 A religious-themed VR film, "Jesus VR – The Story of Christ," will be released for most platforms this Christmas. The 90-minute film will be executive produced by Enzo Sisti, who also produced "The English Patient" and "The Passion of the Christ," and "Jesus VR" also shares a religious adviser – Father William Fulco – with that Mel Gibson production. It was shot in Matera, Italy, last October, entirely in 360-degree 4K video, and will cover the major events in Jesus's life, including the Sermon on the Mount and the crucifixion. It will be released for Google Cardboard, Samsung Gear, Oculus Rift, PlayStation VR and the HTC Vive. – VAR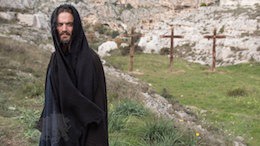 College student and "professional mad scientist" Drake Anthony designed and built a 200-watt laser bazooka. Last year, the Southern Illinois University student (who goes online by "styropyro" and "DIY Laser Guy") went viral after creating a 40-watt laser shotgun capable of burning a ping-pong ball and popping balloons. His latest creation can shoot through a computer case and ignite gunpowder, and consumes around a kilowatt of electricity, around what it takes to power a microwave oven. – LAUGHINGSQUID
HOT PROPERTY
Retired professional golfer Greg Norman has listed his 11,601-acre Colorado ranch for $55 million. Seven Lakes Ranch, located in the remote White River Valley, boasts a 14,000-square-foot main house, which has eight bedrooms, staff quarters and 11 additional residences, including guesthouses and cabins. The property also features a restored 1800s dance hall, a skeet shooting course, a fitness center, equestrian facilities and various barns and other ranch buildings. The former No. 1-ranked golfer in the world has tried to sell the estate before. Most recently, it was put on the market for $55 million in 2011. Even though the price hasn't dropped, Mr. Norman says he's much more serious about his current effort. – WSJ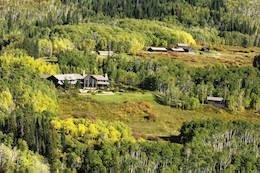 Architecture firm ODA is planning to build a large European village-inspired housing development in Brooklyn's Bushwick neighborhood. The Rheingold Project (named after the former Rheingold Brewery) extends two city blocks and will encompass one million square feet of apartment units. A series of outdoor courtyards will connect different areas of the development, which is set to include coffee shops, lounges, study spaces, art galleries, and fitness and recreational areas. – DEZEEN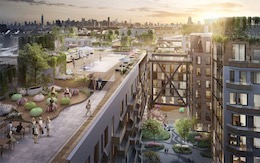 This recently restored $799,000 California craftsman home, built in 1911, is located in Pasadena's Bungalow Heaven historic district. The three-bedroom, 1,597-square-foot house won the Pasadena Golden Arrow Award in 2010 for its front garden and restoration work. In addition to its prize-worthy charms, which also includes a central fireplace, fir and white oak floors, and wood beamed ceilings, the house has that extra Hollywood touch. It was featured in George Hickenlooper's 2001 film, "The Man From Elysian Fields," starring Andy Garcia, Julianna Margulies, and Mick Jagger. – CURBED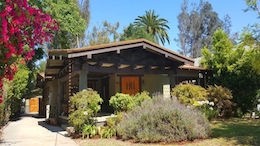 IN-DEPTH READS
As FiveThirtyEight launches its initial statistical models for the 2016 presidential race, Nate Silver gives Donald Trump about a 20% chance of winning, and explains the reasoning behind his prediction.
He starts by explaining the flaws inherent in the site's initial, skeptical, clearly-inaccurate predictions of Trump's primary chances, referring to these results as "winging it," "back-of-the-envelope" and "a long way from being perfect." Basically, they considered the election as comparable to typical elections, and looked for results that would be within normal parameters. These calculations were correct, but just didn't look out for a big upset.
Moving forward, the site will utilize a dual approach, what Silver calls "polls-plus" and "polls-only." Polls-plus will look at election poll results alongside an index of economic performance, as FiveThirtyEight tends to do, assuming that Americans will be at least somewhat influenced by how they're doing financially. Polls-only will, as the name suggests, factor in just the numbers themselves, keeping things simple.
This second model may be the most telling of all. Traditionally, in presidential campaigns, the gulf between competitors tightens up as the race goes on, if only because they usually have fairly equal fundraising and messaging styles, which are working about as well as one another. But as Trump is not an ordinary candidate, this may not happen, and the "polls-only" model will reflect that immediately. (As Silver notes, because so many undecided voters still remain undecided, uncertainty remains high, making a last-minute Trump run against Clinton possible, as well as a last-minute Clinton landslide.) – @lons
A word from our partners:
The Machine is a must-read book that challenges the standard sales model and presents a radically new approach to the design of the sales function – from commission structure to SDR tactics and lead development. As an exclusive for the Inside community, we're offering the first four chapters for free.
Have an ad you'd like to put here? Contact austin@inside.com
How likely are you to recommend Inside Daily Brief to a friend or colleague?