|
Turkish authorities report that the suicide bomber responsible for 51 deaths at a wedding party this weekend was between 12-14 years old. Early indications suggest terror group ISIS was behind the slaughter. Sixty-nine people were wounded on Saturday night, including the bride and groom, when the blast ripped through a party in the Beybahce neighborhood, near the Syrian border. – CNN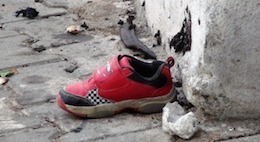 A study has shown that black Americans visiting emergency rooms for back or abdominal pain are less-likely to be given opioid painkillers. The cause is likely an unconscious bias, in this case one that assumes black patients will abuse the medications - despite the fact that opioid abuse is far more prevalent in white communities. (A study in April found that half of a group of white medical students surveyed believed at least one false statement about black people among the following: That they have "thicker skin," "faster-coagulating blood," and/or "less sensitive nerve endings.) – GUARDIAN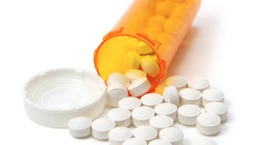 Frank Ocean's sophomore full-length album "Blonde" has been released on iTunes for an exclusive two-week window. The 17-track, hour-long release hosts cameos by Andre 3000, Beyonce, and Kendrick Lamar. Rolling Stone submitted an early reaction, referring to the record as perfected avant-garde soul music. The writer finds that the album has a similarly melancholy tone to Ocean's acclaimed "Channel Orange," going so far as to say the record contains "few beats at all." – VERGE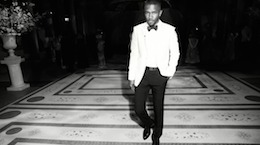 The original cast of the 1960's Batman TV show have reunited for an upcoming animated movie. "Batman: Return of the Caped Crusaders" features the voices of Adam West, Burt Ward, and Julie Newmar. The original series, a classic to its devoted cult, ran for 120 episodes between 1966 and 1968. The new animated feature is due in October. – CoS
Researchers at the U.S. Department of Agriculture have come up with an edible packaging that could potentially curb the amount of stress plastic waste has on our ecosystem. The material, called casein biofilm, is a thin wrapper created from milk protein mixed with citrus pectin. While it looks and handles like plastic, casein biofilm is 500 times more effective at keeping any content from spoilage. And, being based on food material, it can be eaten or composted. – MENTALFLOSS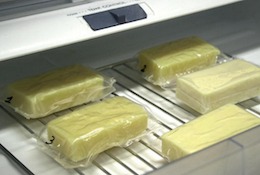 Paleontologists from Burke Museum and the University of Washington have discovered a T. rex fossil with a remarkably preserved skull at a site in Montana. The fossil, dubbed "Tufts-Love Rex" (after the volunteer paleontologists who first noticed the bones jutting from a hillside) was discovered in the famous dinosaur-fossil wonderland known as the Hell Creek Formation. About a fifth of the animal's skeleton has been removed from the rock, and the process of extricating the largely-intact skull from the stone still surrounding it may take up to a year. – SEEKER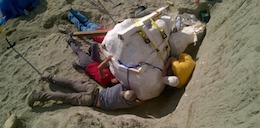 Leonardo DiCaprio is out and Justin Timberlake is in as host of an upcoming $33,400-per-guest fundraiser for Hillary Clinton. While a scheduling conflict is the official reason DiCaprio's camp has given, speculation has run high that the change was in response to a Department of Justice investigation into ties between the actor's foundation and a $3 billion embezzlement scheme. (The foundation is facing questions from the Justice Department about a monetary connection to financier Jho Low, DiCaprio's "gambling buddy," who faces criminal accusations.) – WRAP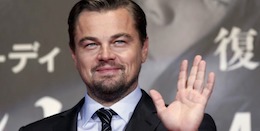 Recently anointed Filipino President Rodrigo Duterte has threatened to leave the United Nations as a response to criticism of his approach to dealing with drug crime. The comments arrive just days after the UN urged Duterte to rethink a drug policy that has already resulted in over 650 police killings and 900 other unexplained murders. Duterte's government maintains the police killings were done in self-defense. – CNN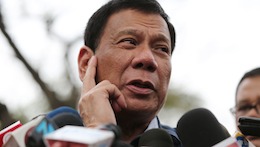 TALK BLOCK
Kellyanne Conway, new campaign manager for Donald Trump, appeared on "State of the Union" and told host Dana Bash that her candidate's official stance on undocumented immigrants was still "to be determined." Trump has previously stated he supported mass deportation. The comment was Conway's response to questions about Trump's statements on Saturday at a meeting with a Hispanic advisory council, where the GOP candidate discussed a more "humane and efficient" way to deal with undocumented immigrants. – CNN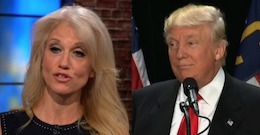 Hillary Clinton campaign manager Robbie Mook sat for an interview on "Face the Nation" to push back at ethical questions about the Clinton Foundation's foreign ties, claiming the scrutiny is all part of "right wing strategy" against his candidate. Mook did his best to redirect attention to Donald Trump's connection to foreign companies, and to a NYT report that pointed to at least one Trump building that has a loan owed in part to the Bank of China. – CBS
Speaking of those attacks on the Clinton Foundation, former New York major Rudy Giuliani turned up on Fox News Sunday, saying Hillary Clinton owes an apology to the American people, and declaring he would indict the Foundation as a "racketeering enterprise." Giuliani also dismissed tracking data that implies Trump may have fallen too far behind in polls to win the presidential race: "Really, he's not that far behind," Giulani opined. – FOX
PARAGRAPH OF PATRONAGE
Publicity – URGENCY – SnapLites – ____ Of The Year
We launched the Paragraph of Patronage to test a couple of things: 1) can we make this newsletter break-even with support from our subscribers? 2) will our readers click the links enough to make it worthwhile to those who pay them?
We accomplished both of these things – and are now working on a new patronage model that will work across all of our verticals. So, the four links above will run for August and will be our last 4 Paragraph of Patronage links for now. Stay tuned for more!
MORE FROM INSIDE
Did you know we have a whole stable of newsletters, and plans to launch many more? Here are a few you might like:
Inside VR & AR – Inside Security – ReadThisThing
How likely are you to recommend Inside Daily Brief to a friend or colleague?