|
Spain is under pressure from NATO to stop refueling Russian warships headed for Syria. Though ultimately, the decision rests with the Spanish government, NATO is concerned that the warships may be used to bomb civilians in Aleppo, Syria. The UK has stated that it will be "extremely concerned" if Spain chooses to refuel Russian warships. As of this morning, Russia has withdrawn existing requests to refuel in Spain. – BBC
Amy Adams, Kathy Bates, and Helen Mirren were just some of the many honorees at the 2016 Elle Women in Hollywood Awards. The event is meant to recognize "powerful and talented" females who have reimagined how women are represented on and off screen. "I would be remiss if I didn't say how much I would look forward to a time when there's not a need for a special night for women, when half of the population doesn't have an asterisk beside it," said honoree Kristen Stewart. – LAT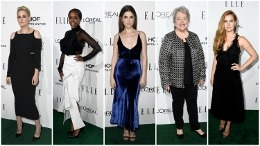 Philippine President Rodrigo Duterte has stated that he would like all foreign troops to leave the Philippines within the next two years. He made these remarks while visiting Japan and giving a speech in Tokyo. In 2014, the U.S. and the Philippines agreed to allow some form of military presence in the country as China expands its presence in the South China Sea. Last week while visiting Beijing, Duterte stated that he wanted to cut ties with the U.S. – NPR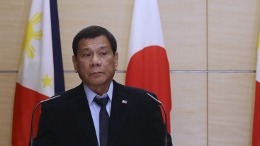 Locals claim that ISIS is sending "suicide squads" from Syria to Mosul, Iraq. They are described as foreign fighters wearing uniforms with suicide belts, carrying light weapons. The militants have allegedly been flooding into the area over the past two days. Iraqi and Kurdish forces have been fighting to take back control of Mosul from ISIS since last week. – CNN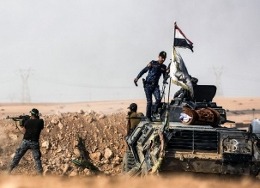 A wild elk has been sighted in South Carolina for the first time since the 1700s. Scientists believe it may have reemerged in the area as a result of being pushed out of mountain territory in nearby states. Although wild elks were once native to the area, they were wiped out, encouraging North Carolina to reintroduce them to the region in 2001. – TU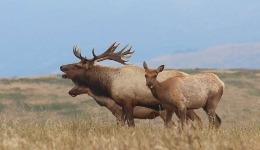 The cost of health insurance under the Affordable Care Act is expected to increase an average of 22 percent next year, according to the Obama administration. However, federal subsidiaries will also rise, which means that few people will have to pay the full cost after the initial rate increases for coverage. "We think they will ultimately be surprised by the affordability of the premiums," said Kevin Griffis, assistant secretary for public affairs at the Department of Health and Human Services. – NPR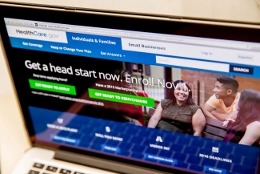 Traffic on the George Washington Bridge between New Jersey and New York was halted this morning due to a protest. Seven men and three women whom were holding a "Resist, Organize, Rise Up" sign as a part of the #WeAreVisible campaign were arrested by police around 8:15 a.m. ET. They had created more than an hour of delays for commuters, some of who fought back by taking away their sign. "You think that getting to work on time is more important than people's lives?" one protestor asked. The campaign is dedicated to giving "visibility" and a voice to the homeless. – NYDN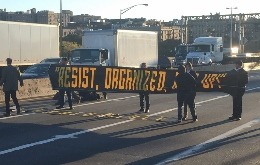 Google Fiber will reportedly lay off some of its staff in an effort to focus more on mobile initiatives. Current Access CEO Craig Barratt made the announcement in a blog post, and he also stated that he will only stay on as an advisor. "For most of our 'potential Fiber cities' — those where we've been in exploratory discussions — we're going to pause our operations and offices while we refine our approaches," wrote Barratt. These cities included Dallas, Texas; Los Angeles, California; and Portland, Oregon. – VERGE
Were you looking forward to Fiber coming to your city? Are you surprised by Google's decision? Have you tried Fiber? Hit REPLY and let us know your thoughts.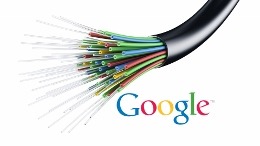 This past Sunday, '60 Minutes' shed light on some of the many NFL players who have engaged with financial advisors, only to be led astray. Fred Taylor and Vernon Davis invested in a proposed electronic bingo parlor after being promised millions in return by advisor Jeff Rubin. In the end, the parlor was opened, but eventually shut down due to strict state gambling laws. Davis and Taylor were able to avoid financial ruin, but they spoke up for other players who may be gambling away their futures without intervention and protection from the league. – CBS
A study suggests that astronauts may be subject to back pain as a result of changes in their muscles that occur in outer space. Researchers from the University of San Diego analyzed test results from NASA astronauts to draw their conclusions. They claim that the astronauts' discs did not change shape in space, but their paraspinal muscles shrunk by 19 percent. These muscles connect the bones of the spine to control movement. – VERGE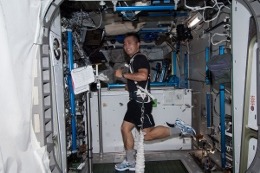 Ice Cube will reportedly play Fagin in the upcoming musical version of Charles Dickens' "Oliver Twist," to be produced by Disney. He will also be a producer and writer for the project, which will be directed by Thomas Kail ("Hamilton"), according to sources. The film will supposedly put a contemporary twist on the play, "Oliver!" with some hip-hop music in the mix. – RS
The Cleveland Indians spoiled the Chicago Cubs' first return to the World Series in 71 years with a 6-0 shutout win last night. Game 2 scheduled for tonight at 7 p.m. ET in Cleveland. During Game 1, the city also celebrated the Cavaliers, who raised a championship banner at Quicken Loans Arena in their opening game of the NBA season. "It's beyond festive. It's a dream come true in Cleveland!" said sports correspondent Tom Goldman. – NPR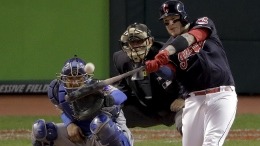 #WCW – Woman Crush Wednesday
On Wednesdays, we deliver our version of #WCW – a woman who has made great strides and created a positive impact on the world around us.
This week's #WCW is...The Women of Iceland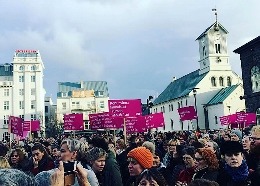 We typically select one female, but in this case, it was too hard to ignore the efforts of thousands who gathered in Reykjavik, Iceland, yesterday. They all left work at 2:38 p.m. local time to protest the gender wage gap in the country. The time – 30 percent earlier than the end of the average nine-to-five work day – represents the median difference in earnings between men and women in Iceland.
Ironically, The Economist recently named Iceland the world's "best place for working women," and a quick internet search will bring up several articles that cite similar research – so why did the women walk out?
The organizers who held the protest did the math like this: they multiplied the number of men in Iceland by the amount they earn, and then did the same for women, coming to about 30 percent. However, the wage gap – defined as how much each gender earns per hour – is 14 percent when the differences in work volume are taken into account. This is less than the EU average of 16.5 percent.
In any case, the Icelandic women likely would've turned out yesterday, whether it was 30 percent, 14 percent, or 1 percent.
"We know that no country in the world has reached gender equality, but today reminds me that not even the country that's supposed to have the most equal rights pays women the same as men," said one protestor.
One of 50+ speakers at LAUNCH SCALE 2016: Casper CEO Philip Krim will break down how he created a $100M company in under two years. Use code: Inside20 for a 20% discount!
How likely are you to recommend Inside Daily Brief to a friend or colleague?

 
CLICK ROULETTE
News Just the Way You Like It