|
1. Several Republican members of Congress have criticized the Trump administration's plan to allow the Department of Homeland Security (DHS) to shoot down drones near airports, saying it exceeds the agency's authority. Congress authorized DHS last year to destroy drones that pose a threat of a "covered facility or asset," such as federal buildings and event likes the Super Bowl. Now, DHS is attempting to expand that list to include airports, according to a congressional staffer. In a letter to acting Homeland Security Secretary Chad Wolf, Reps. Mike Rogers of Alabama and Sam Graves of Missouri argued that the DHS plan "goes far beyond" the authority of the agency. Supporters, however, say an anti-drone plan is sorely needed at airports after incidents like last year's shutdown of London's Gatwick Airport. - CNN
2. A hydrogen-powered drone delivered medical samples to a testing facility in a flight that crossed 43 miles of open ocean. The hydrogen fuel cell-powered DS30 octocopter recently flew from a hospital on the Caribbean island of St. Croix to a testing facility on the island of St. Thomas. After reaching the destination, the drone still had nearly 30 minutes of flight time left on its fuel cell. The project was a collaboration between the drone consulting group Guinn Partners, Skyfire Consulting, the U.S. Department of Health, and the Korean drone company Doosan Mobility Innovation. - NEW ATLAS
3. A drone flew within 65 feet of a passenger plane at London's Gatwick Airport this past July, according to a newly released report that included the findings of a government investigation. The report by the U.K.'s Airprox Board said that the drone's risk of collision was "high" when it nearly missed the plane, which was a minute away from landing. The pilot of the Airbus A320 reportedly exclaimed "drone" and the co-pilot noticed the UAV directly in front of the plane, which he identified as a DJI Inspire. The crew then watched the drone as it "passed down the left side of the aircraft at the same level," according to the report. - BBC
4. Wing believes that Australia's federal government should regulate drone noise, and not the states. For the last several years, the subsidiary of Alphabet has been testing out drone deliveries across the country, where some neighbors have complained about noise. As a result, Australia's federal government is recommending that the states and territories take on responsibility for regulating drone noise, which Wing opposes. "We think that it could have unintended consequences for safety," said Jonathan Bass, global head of marketing at Wing, adding that the former Google X project believes the federal government should regulate all of airspace, including noise. A paper about the issue from the federal government argues that the "proximity of drone operations to the community" makes local governments more suitable for overseeing noise complaints. - ABC
5. A Kansas City company plans to sell a "stork drone" service for gender reveals. "There's so many things you can do to be creative with drones," said Patrick McBride, founder of Drone on Demand, which offers drone and photography/video production services. While McBride didn't explain exactly how the concept would work, it appears that one of the company's drones - which resembles a stork - would drop a package and the contents inside would reveal the baby's sex. McBride said he decided to offer the service starting next year after filming a video to announce his wife's pregnancy. - KSHB
6. More anglers are using drones to precision-drop their bait in locations with the best fish, according to The Wall Street Journal. This type of drone fishing is legal in both Australia and the U.S., which both allow the practice as long as the pilot follows local flight rules and register their drones. The UAVS are ferry baited with a fishing line from the angler's reel away from shore "and then lower the hook to where the best tuna, mackerel and snapper are said to lurk," according to the Journal. If all goes as planned, "the drone releases the line, and the fisherman reels in the catch when a fish bites." - WSJ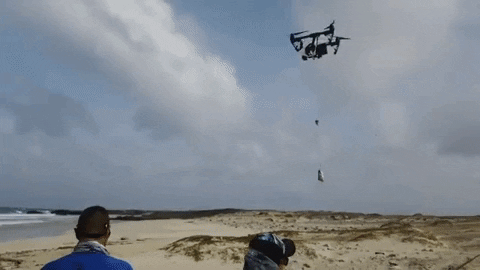 7. More developers need to incorporate drone pads into their apartment designs, according to the quantity surveying firm WT Partnership. Nick Deeks, managing director of WT Partnership, argues that not enough apartments are designed with drone landing pads for deliveries, which can be costly if not impossible to install after the development is already built. A builder and developer in Perth, Australia, has already designed an apartment complex with a drone launch pad on the roof, which will be the first structure of its kind in the country. The builder, Gary Dempsey, said that developments lacking these facilities "are going to be very much disadvantaged in the future." - FINANCIAL REVIEW
8. Drones are transforming the palm oil industry by spotting fires, collecting data about crops, mapping fields, and locating leakages in irrigation system, Bloomberg reports. Last month, a drone spotted a fire at the Genting Plantations Bhd. in Jakarta, which uses drones to reach fires that are too remote or inaccessible otherwise. A single drone can take images of about 2,500 hectares of oil palms a day, compared to only 5 hectares for a person, according to William Tao, chief operating officer at Hong Kong-based Insight Robotics Ltd. "In the coming years, use of commercial drones in palm oil plantations is poised to show huge potential," said Yash Doshi, who tracks the aerospace and defense sector for Allied Market Research. - BLOOMBERG
9. The European Union Aviation Safety Agency (EASA), which regulates drones in the European Union, is hosting a conference during Amsterdam Drone Week next month. Discussions at the EASA High Level Conference on Drones could have a major impact on the commercial drone industry in Europe and the world, including future regulations, according to Drone Life. Amsterdam Drone Week takes place December 4 – 6. - DRONE LIFE
10. VIDEO OF THE WEEK: YouTube channel seppes shared this footage of three drone pilots racing FPV-style around superbikes at California's Thunderhill Raceway.
Written and curated by Beth Duckett in Orange County. Beth is a former reporter for The Arizona Republic who has written for USA Today, Get Out magazine and other publications. Follow her tweets about breaking news and other topics in southern California here.
Editor: Kim Lyons (Pittsburgh-based journalist and managing editor at Inside).