|
1. Over two days in late February, SpaceX hired 252 people, doubling the workforce of its Starship Texas site. Ahead of the hiring event in Boca Chica, SpaceX founder Elon Musk asked the site's employees to tell friends and family to apply for jobs, saying that they should invite only those "who you'd put your reputation on the line for." In recent weeks, SpaceX has built two football-field-sized tents at the site – and is working on a third – as well as two windbreaks to host Starships in a vertical position. Musk's goal is to put together an assembly line that would eventually build hundreds of Starships. Ideally, the Boca Chica site will be producing a Starship a week by the end of 2020, and a Starship every three days going forward. "We're trying to build a massive fleet to make Mars habitable, to make life multi-planetary. I think we need, probably, on the order of 1,000 ships," Musk said. While talking with Ars Technica senior space editor Eric Berger, Musk referred to his plans for the Starship as "mad," "insane," and "nuts." – ARS TECHNICA
2. NASA has released the largest and highest resolution panorama ever taken by the Curiosity Mars rover. Composed of more than 1,200 images, this 360-degree image contains nearly 1.8 billion pixels. The images were taken between Nov. 24 and Dec. 1, 2019, when the Curiosity was standing still because NASA personnel was out for the Thanksgiving holiday. "What I love about this panorama is that we can zoom way in and see details far in the distance. When you start to do that you can see the rim of the crater we are inside of, all the way to the north," says NASA Curiosity Project Scientist Ashwin Vasavada in an accompanying video. The Slangpos crater, which is three miles wide, is also visible. "Panoramas like this are like a window to another world," says Vasavada. – NASA / YOUTUBE
3. CNET has published a deep dive into the United Arab Emirates' Hope Mars orbiter, which will be launched toward the red planet this summer. Hope – the first interplanetary mission led by an Arab, Muslim-majority country – will arrive at Mars in 2021, the year the UAE celebrates its 50th anniversary. Once there, the satellite will try to determine why the Martian atmosphere is losing hydrogen and oxygen into space. The mission has kickstarted the UAE's space industry, which could help the country diversify its economy from fossil fuels. The Emirati space agency now employs 200 people, up from 70 in 2015, and ninety percent of Hope team members are 35 and under. The mission is "providing hope to a younger generation, bringing more women into STEM and promoting collaboration between nations," writes CNET reporter Abrar Al-Heeti. – CNET
4. Throwback Thursday: This week marks the 50th anniversary of the first successful launch of Britain's Black Arrow rocket.
Black Arrow was a three-stage rocket, 13 meters tall, with a single eight-chambered engine in its first stage.
The first launch of the rocket, in June 1969, was a failure, but the vehicle reached orbit on March 4, 1970.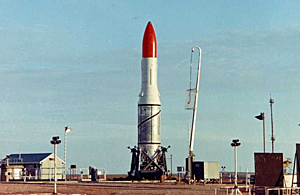 The following year, Black Arrow sent a satellite called Prosperus into low-Earth orbit.
That was the only successful orbital launch to be conducted by the U.K., as well as the fourth and final flight of the Black Arrow.
5. NASA's Mars 2020 rover has a new name: Perseverance. The winning name was chosen from 28,000 entries submitted by school-age children across the U.S. Around 4,700 volunteer judges chose 155 semifinalists. Once that list was whittled down to nine finalists, NASA asked the public to cast votes online. More than 770,000 people voted. The winning entry was submitted by Alexander Mather, a 13-year-old student from Virginia. "This Mars rover will help pave the way for human presence there and I wanted to try and help in any way I could. Refusal of the challenge was not an option," Mather said. NASA has long relied on nationwide polls to name its Mars rovers. Sojourner, which landed on Mars in 1997, the Spirit and Opportunity rovers (2004) and Curiosity (2012) have all been named through contests. – CNN
6. Texas-based startup AST & Science has raised $110 million to launch a satellite constellation that will send data directly to smartphones. Japanese online shopping giant Rakuten and global telecom leader Vodafone led the funding round. AST & Science has raised a total of $128 million and plans to continue raising capital in a bid to launch a few dozen satellites into low-Earth orbit over the next few years, said the company's founder Abel Avellan. By then, the SpaceMobile constellation will be big enough to start generating revenue but going forward, AST & Science plans to launch hundreds of satellites, Avellan said. The company is building its satellites in an 85,000 square-foot facility at the Midland Air and Space Port in western Texas. AST & Science launched a demonstration nanosatellite, Bluewalker-1, on an Indian PSLV rocket last April. – SPACE NEWS
7. NASA has asked employees to work from home on Friday in a bid to test remote working technologies. As the number of coronavirus cases continues increasing in the U.S., NASA wants to be ready in case it needs to ask its workforce to work from home, a spokesperson said. A former NASA employee told Politico that the exercise will allow the agency to "stress test the system." The Air Force will perform a similar test on Friday. – POLITICO
8. Astronomers are eager to send a major mission to Uranus or Neptune to take advantage of a planetary alignment that would significantly cut travel time. In the early 2030s, the rare celestial alignment would allow a spacecraft to slingshot itself around Jupiter and toward Uranus or Neptune — the most distant and least explored planets in the Solar System. If such a spacecraft would be launched in 2031, it would arrive at Uranus in 2043. A group of scientists who met at the Royal Society in London in January to discuss the mission said that such a mission would have to be launched by NASA or maybe NASA and its European counterpart, ESA. Planning needs to start soon because large missions take 7 to 10 years to prepare, writes Elizabeth Gibney. – NATURE
9. NASA's Voyager 2 has returned to normal operations after suffering a technical glitch in late January. "The five operating science instruments, which were turned off by the spacecraft's fault protection routine, are back on and returning normal science data," NASA said on Tuesday. On January 28, NASA said that it had to switch off some science instruments because a failed maneuver drained the probe's power. Voyager 2 was launched in 1977 and is now at a distance of about 11.5 billion miles (18.5 billion kilometers) from Earth. Voyager 1 and Voyager 2 have been losing power in recent years due to the natural decay of the radioactive materials in their thermoelectric generators. – CNET
10. Image of the Day: Juan Carlos Munoz, an astronomer at the European Southern Observatory in Chile, posted this beautiful image of a spiral galaxy named NGC3810. "I'm more of an astro-landscape guy, but last night I decided to dip my toe into the world of Hubble image processing. Here's the result: NGC3810, a spiral galaxy about 50 million lightyears away," he wrote.
Written and curated by Eduardo Garcia in New York. Eduardo is a graduate of the Columbia Journalism School M.A. Science program and writes regularly for the New York Times Climate Fwd: newsletter. In one of his previous lives, Eduardo worked as a Reuters correspondent in Latin America for nearly a decade.